Jim Jones & The Righteous Mind + Little Garçon
2 mars 2016 à 20:00
14€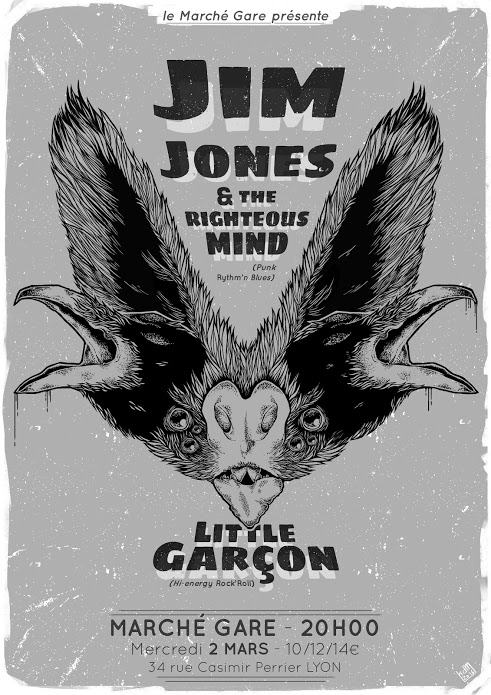 le Marché Gare présente
JIM JONES & THE RIGHTEOUS MIND
+ LITTLE GARCON (rock'n'roll / blues / Soul)
Mercredi 02 Mars 2016
MARCHE GARE – 20h
Si Jim Jones montait il y quelque années The Jim Jones Revue en réponse à la séparation de son groupe Thee Hypnotics, Jim Jones & The Righteous Mind est aujourd'hui une déclaration de guerre. Plus personnel, plus riche et infidèle aux mœurs du rock'n'roll, Jim Jones & The Righteous Mind est une réincarnation inattendue et redoutable.
▬▬▬▬▬▬▬▬▬▬▬▬▬▬▬▬▬▬▬▬▬▬▬▬▬

Marché Gare (MJC Confluence) – 34 Rue Casimir Perrier 69002 Lyon Abonnés 10€ / Préventes 12€ + frais de loc / Guichet 14€
www.marchegare.fr // www.facebook.com/marchegare // twitter.com/marchegare
▬▬▬▬▬▬▬▬▬▬▬▬▬▬▬▬▬▬▬▬▬▬▬▬▬
JIM JONES & THE RIGHTEOUS MIND
(Rn'b' Punk / Rock'n'roll— UK)
http://www.righteousmind.co.uk/
Le nouveau groupe de Jim après la fin du Jim Jones Revue! JIM JONES & THE RIGHTEOUS MIND est la continuité de la Revue avec de la contre basse et steal guitare, dans un registre plus émotionnel mais toujours vigoureux pour mettre le charisme de Jim encore plus en évidence. Vous avez aimé JIM JONES REVUE, vous serez conquis par ce nouveau projet Rock'N'Roll de Jim Jones, ancien chanteur du groupe The Hypnotics dont la voix rauque surprend toujours autant par sa puissance! Avec Jim Jones: vocals, guitar / Gavin Jay: bass, b-vox / Phil Martini: drums, b-vox / Joe Glossop: keys, b-vox / David Page: pedal steel, b-vox.
LITTLE GARÇON
(Lyon / Hi-Energy rock'n'roll)
littlegarcon.bandcamp.com
Les filles de LITTLE GARÇON proposent un garage vif et tranchant, mélodique et aéré qui peut bien sûr renvoyer aux meilleures heures de Bikini Kill.
Le premier Vinyle est enfin disponible le bandcamp du group