Michel Anoia + Morgue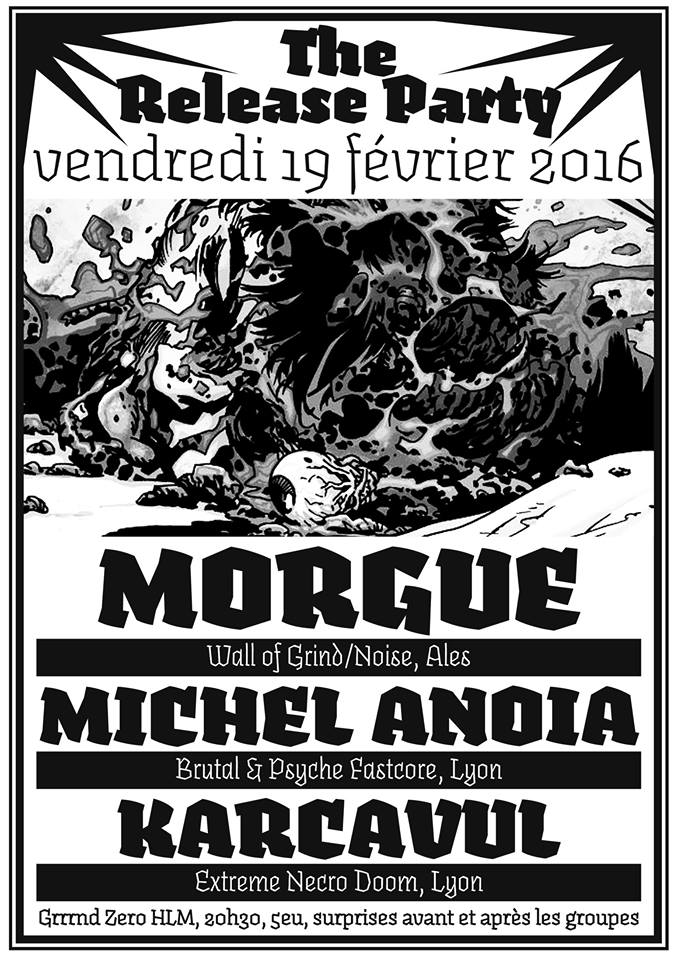 Ven 19/02 Michel Anoia + Morgue @ Grrrnd Zero HLM
Une coprod des familles Infect/Handicap/D7C :
Vendredi 19 février 2016 @ Grrrnd Zero HLM
20h30 / 5eu
MORGUE + MICHEL ANOIA + KARCAVUL – RELEASE PARTY
MICHEL ANOIA – Brutal death psychédélique aux pommes
Quatuor lyonnais versant dans la violence brute, la technicité et le psychédélisme, Michel Anoia est un trip sous acide en plein milieux d'une tempête. Pour les fans de Psyopus, Krallice, The dillinger escape plan.
Nouvel album « Plethora » le 12 février 2016 // Underground pollution / Eardrum Terrorism / Allende Records / Abekeit / Smithsfoodgroup DIY / WOOAAARGH
https://www.facebook.com/michelquartet/
————————–————————–—–
MORGUE – Death grind noise zouk des ténèbres
Nouvel album « Doors of no return » le 13 janvier 2016 en CD, le 13 février 2016 en LP // Basement Apes Indutries / FatAss Records / Trendkill Recordings
"Cult metal maniacs MORGUE has returned to the scene in 2012 and here is the testimony. This is their third album to date, clearly bursting out this ferociously angry and awesome fierce grindcore. Stirring up a pissed off mix of evilish tunes and dissonant tones, this is all about modern grindcore though. France's MORGUE pound out a furious nine song grand fucking slam of a record" // http://tinyurl.com/z7e5xbe
http://morguecult.bandcamp.com/
https://www.facebook.com/official.morgue/
————————–————————–—–
KARCAVUL – Local necro doom heroes
https://karcavul.bandcamp.com/
http://karcavul.free.fr/
————————–————————–—–
SURPRISE – Local party surprise:
En première partie de soirée :
ROUNDOPREADY
Vous fera saigner des oreilles tout en vous guidant vers notre seigneur Jesus Christ. Alléluia!
En derniere partie de soirée :
DJ GHXSTNXTE (aka Hypanaut)
pour une sélection de disques vinyles de bon goût.
https://www.grrrndzero.org/
http://dirtysevenconspiracy.blogspot.fr/
Pour l'adresse : dirtysevenconspiracy@gmail.com